Intelligent booking loan system
Product Description:
Hall to create a new museum concept, so that readers can be self-service reservation book or book reference book Description: 1, the main equipment in the area include wisdom shelves, self-help borrowing machine, book booking machine, access door security, composition An appointment book system 2, self-booking take book area, service by the reader to complete, can reduce the library processing to the library reservation book \ specified reference book workload 3, the reader in the booking book machine card, smart bookshelf will be Light way to prompt the book position 4, obtain my book, through self-borrowing book machine to borrow; non-appointment I can not borrow 5, the entrance has a safe passage door, if not completed the loan program, then the channel will be Call the police
Product Description:
Smart bookshelf is a high-performance bookshelf positioning management system, through the set cycle or manual control, automatic collection of books in the shelf position information and upload to the RFID data center, support multi-section bookshelf parallel applications, through the shelves layered label scanning , In order to achieve automatic intelligent positioning books.Counting books inventory and various statistical work.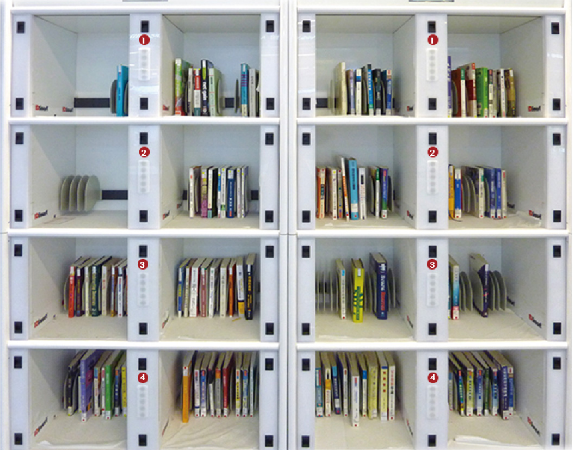 Functional Description:
1. Equipment color bright, very stylish, nice.
2. A single 8-cell design, in accordance with the needs of the museum to increase the freedom of combination, simple and convenient.
3. The colored lights on the shelf will illuminate the way readers guide to the corresponding shelves to take books, humanized, and avoid unnecessary waste of time.
4. Open design, increase the reading rate of high-quality books.
5. Bookshelf using the back-style maintenance door, the necessary maintenance or management operations are carried out by the back of the equipment, without affecting the use of readers or library order; maintenance door lock, the back of the device also consider the beauty of the back design.
Technical Parameters:
1. Operating frequency UHF: 920 ~ 925MHz.
2. Comply with EPC C1G2 and ISO18000-6C protocol
3. Built-in PIR biosensor. IR infrared sensor